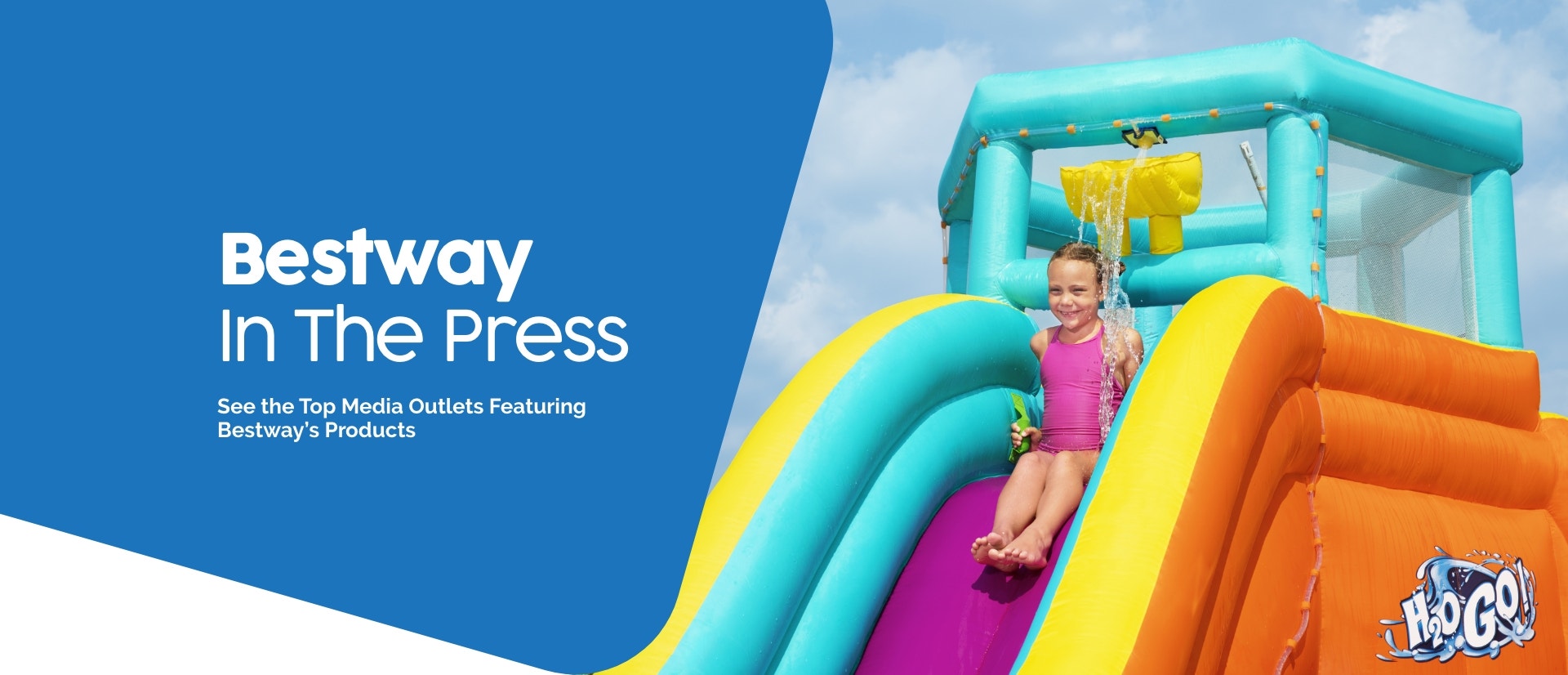 Sherri Show
"This (H2OGO! Wonder Hoops Bounce Park) inflates in 2 minutes… and it's the best thing for your backyard!"
Fox News
"Literally everything you could ever want for a water park in your backyard."
Fox Weather
"It's a nice upgrade from the kiddie pool and when they say fast set, they mean it!"
The Today Show
"Look at that! 5 feet tall, a little water in the back to stabilize it, this is so much fun!"

May 2023 - The Best Inflatable Hot Tubs Made for Relaxing On a Budget "For its six-person capacity, affordability and attractive features, Coleman's SaluSpa is an unbeatable option for most households in search of an inflatable tub."
April 2023 - 14 Best Inflatable Pools to Beat the Heat in Style "Despite its relatively large size and durable construction, this best-selling aboveground pool… can easily fit a family of four with room to spare."
October 2022 - Bounce Winter Blues Away with Fisher-Price Bouncetopia "The Fisher-Price Bouncetopia Bouncer from Bestway features everything kids need to have their own bounce house indoors."
Aug 2022 - This Under $500 Inflatable Hot Tub Is Pure Backyard Bliss "Don't want to spend thousands on buying and installing a hot tub? This $450 SaluSpa Inflatable Hot Tub is budget-friendly, easy to use, and built to last."
July 2022 - The 5 best inflatable hot tubs: Treat yourself "What is the best inflatable hot tub? ZDNet chose the Coleman Sicily Inflatable Outdoor Airjet Hot Tub."
Nov 2021 - Um, Blow-Up Hot Tubs Exist, So Here Are 10 That Will *Probably* Change Your Life "The Bestway SaluSpa Helsinki will instantly elevate your backyard and help you catch some much-needed zen."
July - 2021 - Yes, Adults Deserve Inflatable Pools Too "Speed and ease of setup for Bestway pools are key selling points, but it's the little touches that take it over the end to being just a truly great pool, full-stop."
June 2021 - Soothe Away Back Pain With This Inflatable spa "It just goes to show that Bestway knows what it's doing when it comes to inflatable hot tubs."