Spring and summer fun doesn't start until the first official splash in the pool. With the sunny seasons around the corner, it's time to take out your above ground pool and set it up for some fun in the sun! Here are 5 tips for preparing your pool for spring and summer splashes!
1. Level Playing Field
An uneven surface can be a cause for concern, not only for the pool but for homes and properties as well. This is why it's very important to be cautious of the surface level when taking out and setting up your above ground pool. Major issues can arise from an unlevel pool. For example, if water pressure is pushing against one area of the pool with more force than the rest, it can blow out due to uneven weight distribution.
The pool can collapse, causing the water to become a threat to property damage and anyone in or around it. Please take the necessary precautions to set your pool up on a level surface. Always place a ground cover beneath to protect the bottom of the pool and ensure your surface is soft and smooth to avoid punctures.
If the ground is not leveled, use compacted dirt to level the area. Don't use sand as it often sinks when wet. Never place anything under your pool legs to elevate your above ground pool, as doing so could cause liner tears and frame damage upon adding water.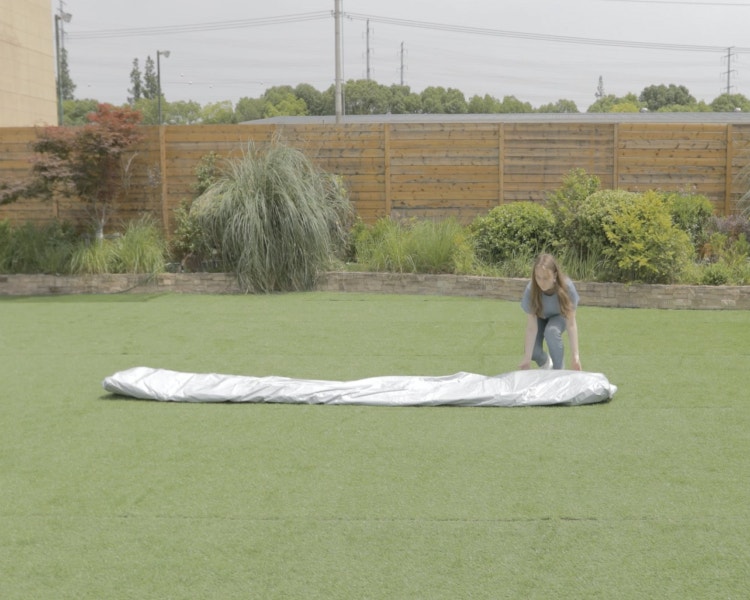 2. Lay out the Liner
As you continue setting up your above ground pool for sunny weather, check the pool liner for tears, punctures, cracks or other blemishes. Seemingly easily noticeable, a faulty pool liner can sometimes be undetectable to the eye. To prevent holes, tears or other damage, we recommend leaving the pool liner out in the sun for at least 2 hours to become more pliable for unfolding without cracking.
Once your liner is in place and the pool is filled with water, a pro tip for double-checking your liner is to use coloring dye. Simply add a few drops into your pool to see where the water is flowing. If it flows directly into the pool wall, you've found your leak. To repair the damage, use a repair patch or consider replacing your liner completely.
3. Prime the Pump
Before your first swim, pump the brakes and check the pump! Your summer splashes can begin once you first check and prime the pool pump to ensure it's still in good working condition. Be sure to get water flowing through the pump before fully turning it on. Let water run into the pump so there will be enough to create suction. Although it may sputter a bit, you should start seeing water filling the pump. Pool pumps can possibly lose parts or gain cracks over the long winter haul, so be sure yours is still in good condition before using it to filter your pool.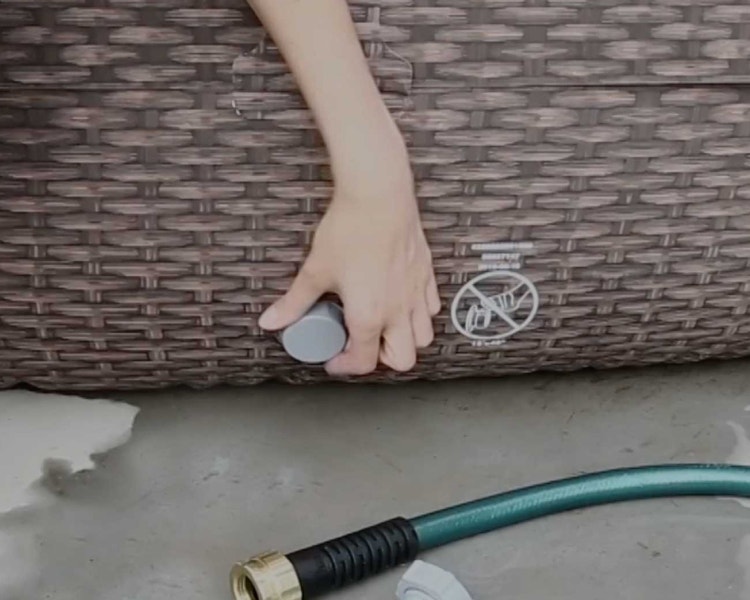 4. Drain Valve Test
The final checkpoint to setting up your above ground pool is your drain valve. Be sure to check the drain valve in your pool to ensure the cap is properly in place and your hose is removed to prevent water from draining out through the drain valve. Once your drain valve is tested and ready to go, you're ready for some good old-fashioned fun in the sun!
5. Stock up on supplies
A clean pool is a happy pool! Make sure you have all the pool supplies you need before making a splash into sunnier weather and always check your parts to make sure none were misplaced or damaged over winter.
The best time to realize your need for some of these pool supplies is before you're in desperate need for them. Filter cartridges, chemicals and new cleaning tools are just a few considerations you'll want to make while turning your backyard into a summertime utopia.
Getting your above ground pool in order can seem like a daunting task, but by simply following these steps and taking necessary precautions, you'll be ready to make a splash in no time, and there should be no bumps on the road to an endless summer! Lucky for you, Bestway USA is your one-stop shop for all pool supply needs! Find everything you need here.
Our Customer Service team is also here to help! If you need parts or have any questions, please contact us here.